It's hard to bet on November. There's always a game that falls apart but gets on store shelves anyway. There's also always one or two surprises. It's unpredictability is the only thing that's predictable about it. Prepare to have your holiday game playing schedule twisted on its head one more time.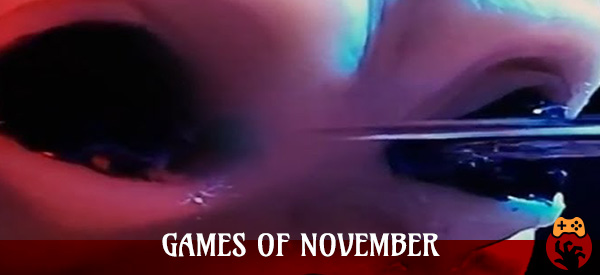 The Binding of Isaac: Rebirth
Justin L – I thought the original Isaac was pretty much flawless, but turns out the creator didn't and this is what the game should have been. I will happily give you money twice to make Mom pay.
Kenny – Well, it's free for PS+ members, but I'm still interested in checking it out. I enjoyed the bit I've played with it on a PC, but a couch and controller will be enough to make it something I can stick with.
Aaron – I wouldn't say I spent a ridiculous amount of time with the original, but it certainly holds a special place in my gaming heart. After a few days with Rebirth, I'm quickly reminded of why guiding a scared child through a disgusting cellar of madness makes for a perfect video game.
Halo: The Master Chief Collection
Justin G – 4 full, updated games for $60? And they're Halo? You can't not buy this. Honestly, it's a good thing I have some adult responsibilities, or I'd probably power through the whole thing on Legendary over the course of a couple of days. I love the Halo series' single player experience. The fact that you get over 100 maps for multiplayer is neat, too, I suppose, if that's your kind of thing.
Justin L – Not the biggest Halo fan, but I want all the Halos together this generation and after I get my Xbox One, I'm gonna cuddle up to Master Chief.
Kenny – Yeah, content-wise, it's a no brainer.  I don't know how much of the single player I'll actually end up running through, but I can see myself losing time to the multiplayer.
Dragon Age: Inquisition
Aaron – There's a small list of things I like to pretend never happened and, with that said, I'm looking forward to the second Dragon Age game! I need more Bioware in my life.
Justin G – I found the first Dragon Age a little clunky (and, my god, the inventory management system!), I thoroughly enjoyed it. I haven't played DA:2, per the instructions of several people, but I'm fairly excited for another foray into a Bioware world.
Kenny – Most of my interest is actually derived from the multiplayer. I know, weird. But, it sounds to be borrowing a lot from Mass Effect 3's multiplayer, which I played the shit out of.
Jordan – Kenny, this is the first I'm hearing about there being multiplayer, and it being based on Mass Effect 3's multiplayer, which I also played the hell out of! I'm suddenly very excited for Dragon Age: Inquisition (dammit, now I want to hook my PS3 back up and play more Mass Effect 3 mulitplayer – Vorcha Soldier Till I Die!).
Justin L – I just don't have time for this. It's going to ruin all of my game of the year plans. But it looks like this may be the Dragon Age game worth talking about. Let's do this thing.
Assassin's Creed Unity
Aaron – Oh, what a joyous year that there are two Assassin's Creed games to choose from! To be honest, I was confused about which one to get. After watching gameplay videos, Unity seems the most interesting to me with its assortment of customization options, a much smoother means of downwards parkour and French Revolution time period.
Justin G – It's been two iterations since I played any Assassin's Creed. Is this the one I get back into the series on? I've been trying to have new gaming experiences and Ubisoft sticks pretty darn close to their (proven) formula in their open world games (I played Far Cry 3 this summer), so it's easy for me to get burnt out on the find-the-tower/defeat-the-base formula if I play them too near each other.
Kenny – My interest in this will all depend on how much open-world fatigue I have after running through Shadow of Mordor and Sunset Overdrive. I'm pretty sure I'm just about there, but the thought of stabbing dudes (stealthily!) in the French Revolution seems enticing.
The Best of the Rest
Super Smash Bros for Wii U – Kenny – The 3DS version was a nice appetizer, but didn't really hit for me like I was expecting; the content was absolutely there, but I never really felt like I had control over it because of the tiny screen and controls. The Wii U version should remedy these issues for me, though.
Depth – Justin L – The original trailers scared the hell of out me and we all know about Horrible Night's fear of water. There's something less scary about knowing the sharks are controlled by other players for some reason. In the end I'd buy this if we had a crew to play with on a regular basis.
Valkyria Chronicles – Jordan – I actually feel bad for not already owning this game since I've had a PS3 for as long as this game has existed. I've always liked the art style and world design, and if the anime follows the game at all – I'm sure I'll enjoy the story as well. I think the turn based military positioning and shooting mechanic looks like something I can get behind. The game is only $20 on Steam, so I'll definitely go ahead and grab it. Even if I never play it, the more of these type of Japanese games that make it from the console world to the PC, the better.
World of Warcraft: Warlords of Draenor – Justin L – Preordered this this summer. Excited about the new character models and trying out a class I haven't spent much time with. Plus, I think I'm actually going to use the automatic Level 90 upgrade and try to see some of the expansion's content.
Far Cry 4 – Aaron – The last game was a grab-bag of interesting and despicable characters, but boy was the game fun as hell. If Far Cry continues to bring the wild funk and then some, I foresee some incredible gameplay stories! Elephants ho!
Adventure Time: The Secret Of The Nameless Kingdom – Jordan – This looks like a fun game. I enjoy both Adventure Time and Zelda greatly – so mashing them together is a solid win in my book.
Pokemon Alpha Sapphire and Omega Ruby – Aaron – I play Pokemon, I'll always play Pokemon and maybe I can't stop playing Pokemon. Send help. The X and Y engine has made the goal of catching them all feel more alive than before, thus my excitement to revisit familiar territory in my personal quest to be… merely alright at battling.
Hey what about Call of Duty: Advanced Warfare? We answered that question here.
Featured November Releases
Week of November 3

Call of Duty: Advanced Warfare

Depth

The Binding of Isaac: Rebirth

Rocksmith 2014

Frozen Synapse Prime

MotoGP 14

Week of November 10

Assassin's Creed Unity

Halo: The Master Chief Collection

Sonic Boom: Rise of Lyric

Sonic Boom: Shattered Crystal – 3DS

Assassin's Creed Rogue

Valkyria Chronicles – PC

Retro City Rampage: DX

Lego Batman 3: Beyond Gotham

Tales of Hearts R

World of Warcraft: Warlords of Draenor

Pro Evolution Soccer 2015

Teenage Mutant Ninja Turtles: Danger of the Ooze

Hello Kitty Racing – 3DS

Week of November 17

Watch Dogs – Wii U

Dragon Age: Inquisition

Far Cry 4

LittleBigPlanet 3

Grand Theft Auto V

Escape Dead Island

Super Smash Bros for Wii U

WWE 2K15

MX GP 14

Pokemon Omega Ruby + Alpha Sapphire

Adventure Time: The Secret Of The Nameless Kingdom

Rabbids Invasion

Week of November 24

Persona Q: Shadow of the Labyrinth

Raven's Cry
What are you going to play?