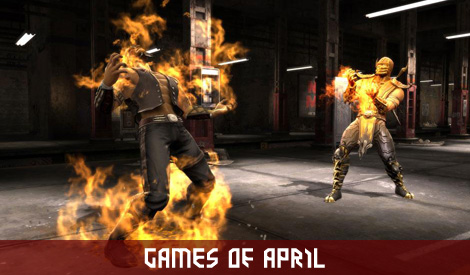 Things have certainly calmed down since the first quarter rushed every game out last month. What does that mean for April? That means the stand out games are blinding. Most of The Cursed is focused on two games in particular, but we offer up a few other opinions for those feeling a bit adventurous with their dollars. Here are the major releases for the month along with our quick previews below:
Week of April 4th

Week of April 11th

Week of April 18th

Week of April 25th
Here's what has our attention this April
Mortal Kombat
Robeque – I've been waiting for Mortal Kombat for a while for this one. When MKvDC came out I was kind of excited about it, but kind of not really with the lack of the trademark MK grotesqueness. I actually ended up never playing MKvDC and held out as soon as I heard they were coming out with a full blown MK game. I love that they're going back to the old style 2D MK and bringing back all the lovely blood, guts, and fatalities that you should expect in an MK game. I've played through the demo quite a few times and am impressed with the look and feel of the game. It really does have that old school MK feel but with completely beefed up and awesome graphics and sound.
Colefacekilla – The first Mortal Kombat game I've been legitimately excited about since Mortal Kombat 2. What Street Fighter IV did for the Street Fighter franchise, Mortal Kombat looks to do for its series. A reboot of of the series brings back the classic 2D style with 3D characters and high definition graphics. The fatalities are disgustingly fantastic and the game is really easy to pick up and play. Not only am I excited for the one on one fighting, the challenge tower with 300 different challenge rooms is something that have achievement whores salivating. Really looking forward to this one and can't wait to get my ass kicked online.
JDevL – I tend to buy every other version of Mortal Kombat, and I actually didn't dislike any of the 3D games, but I'm excited to see the game return to its classic form. However, why I'm really excited for this game is that it is generating a decent amount of interest in my gaming crew. Owning a fighting game with no one to play against is worthless these days. There will be plenty of bloody Xbox Live battles and accusatory trash talking with the friends I haven't beat up in years.
Portal 2
We have a full preview of Portal 2 up already, but here's some insight as to where we all stand on this one:
Coopopolopolis – I'm definitely picking up Portal 2. I loved the original, and thought it was a pretty original puzzle/fps style of game.  It was definitely more challenging than I had expected which was cool.  I love that they added co-op and can't wait to see how the pull it off.  That is also going to bring up the dilemma of which system to own it on.  I played the first on PC and can't really imagine pulling off some of the stunts with a controller, but I really want to play it on Xbox.  I guess it'll be up to what the most of my friends own it on.
Jadetiger CG – Wanted to let you cats know that if you guys get Portal 2 on ps3 you get a free copy for PC via steam. I'm almost always an xbox person, but since so many people i know are getting this on different platforms, PC is probably the easiest way for me to play with most of them, and this way it saves me from buying multiple copies.
GiffTor – You can also get a cheaper 2-fer via steam if you download with a friend.
Coopopolopolis – So I take it everyone is buying this for PC? WTF.. that doesn't help my Xbox gamerscore.
GiffTor – Nope. I'm buying it for Xbox. I don't own a gamepad for my PC, my couch > my office chair and I'm a gamerpoint WHORE.
Jadetiger CG – I've got both preordered at gamestop, and i'll have to cancel one of them…. I'm really torn cause I am an achievement whore as well…. Why must it be so complicated!?
Blue Awesome – I'll be getting it for Xbox too.  Achievement whoring FTW.
Streetalchemist – Yeah I was planning all along to get this thru Steam… but yeah who am I kidding, I game on my Xbox… And as you all stated, acheivement whoring engage!
JDevL – I'm also a whore, and I think I'll just post this thread as the preview for Portal 2 then…
Best of the rest
Oddworld: Stranger's Wrath – Robeque: Stranger's Wrath is one of my favorite games of all time. I haven't played it in years, but I will definitely be giving it another play through with this revamped edition. This is a mix of a first and third-person shooter unlike any other that I've played. If you never played Stranger's Wrath and you have a PS3, do yourself a favor and pick this one up. Knowing this game was on the horizon helped me justify actually getting a PS3 to begin with.
The Dishwasher: Vampire Smile – Coopopolopolis: For a second I got excited about The Dishwasher: Vampire Smile, but then I quickly remembered how ridiculously hard the original was. I loved the artistic style of the game, the darkness of it, and the fact that you though it was a button masher, but really there's way more skill involved if you want to get very far. It was also one of the first games that got me super excited about the XNA developer kit since it was originally built with that. I may still give the second one a try, but I'm undecided. I'll definitely try out the demo to see what they've changed. (JDevL would like to add that SKA Studios is bad ass.)
Michael Jackson: The Experience – GiffTor: If there's an opposite of being excited for a new release (maybe "appalled by the thought of a new release"?), that's how I feel about Michael Jackson: The Experience. I have a lot of fond memories of Moonwalker at Aladdin's Castle and on the Genesis…but even now, I'm not sure those fond memories would be enough to counteract my Michael Jackson Fatigue / #whatafrickin'weirdo enough to even give that game another shot.. .although if I got a free cabinet, I probably would. That's a little off-topic, but to distill it down to its most elemental: Michael Jackson: The Experience has the same appeal to me that developing a severe case of shingles does.
Sources:
Giant Bomb (images)